The best thing I love about making quesadillas is that it is  loved by everyone: beef lovers, meat lovers. So right now I will share a recipe with my readers to help them make beef quesadillas. I can guarantee that kids and teens in your home, will love this lip smacking snack.
Ingredients:
750g lean beef (minced)
4 spring onions (peeled and sliced)
1 green chili (finely chopped without seeds)
¼ cup of chopped fresh parsley or coriander
100g cheese (grated)
100g mozzarella cheese (grated)
8 flour tortillas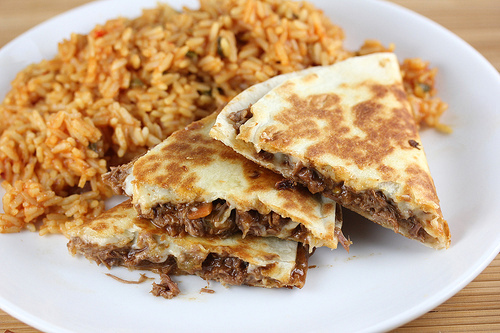 How to make beef quesadillas:
To start making beef quesadillas, you need to heat a deep frying pan. It is best if you use a non-stick pan for convenience. Heat a tablespoon of oil and add the minced beef till it cooks to brown color. Make sure that you finely mash the beef using the back of a spoon in the process. You can divide the beef in 2-3 batches so that it will be easier for you.
Once the beef is nicely brown, add other ingredients such as spring onions, and chili. Mix all the added ingredients to the beef, cover and allow it to simmer for about 10-12 minutes. Stir to avoid overcooking.
Remove everything from heat and add finely cut parsley or coriander. With the use of a slotted spoon, transfer the mixture on a large bowl while draining any excess fat. Set it aside and let it cool. Once cooled, you can add cheese and mix everything softly.
For the tortilla, you can either use a frying pan or preheat a sandwich press. Put the tortilla on the base plate and spread about ½ of the mixture that you have made earlier over ½ of the tortilla. Add some grated cheese on top of the mixture again, and fold it over to close the filling.
Cook and wait for 3-4 minutes. Sometimes, it may take a little longer or shorter, depending upon the time in which the Quesadillas become hot and crispy. Repeat the same procedure with remaining tortillas.
Quesadillas are best served if you cut it into wedges and add some guacamole or sour cream.
They are – you used the plural quesadillas, so the verb and pronoun should also have a plural form